Eric Winston Gant is considered to be one of the world's foremost authorities on Geoduck Clam Aquaculture. In 1977, Mr. Gant helped to pioneer the wild Geoduck Clam Fishery in British Columbia, Canada, as a Founding Director of the Underwater Harvesters' Association (UHA). The UHA consists of all the licensed Geoduck Fisherman in B. C. In 1993, he pioneered the development of the Geoduck Clam Culture Industry in BC as the Founding President of FAN Seafoods Ltd. FAN spent approximately $15 Million developing commercially viable geoduck culture technology. In the year 2000, Mr. Gant built his own shellfish hatchery. He has been a guest lecturer at the Vancouver Island University, and the University of British Columbia. He has also made presentations at various conferences in the United States, Canada, Thailand, and China. He is presently developing joint ventures with several First Nations bands as part of their land claim settlement in Canada. Together they will be securing substantial subtidal grow out sites in addition to what Mr. Gant already owns. He is presently looking for international financing for $20 Million.You can contact him at 250-334-9562; or, ericgant@manateeholdings.com
Rosemary K. Rollins is a professional auditor and business advisor.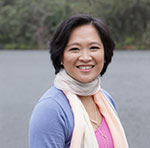 Rosemary K. Rollins (formerly Lourdes E. Gant) earned her BSc in Accountancy at the Polytechnic University of the Philippines where she graduated cum laude, and her MBA for Middle Managers at the Ateneo Graduate School of Business. After graduation, she was employed by one of the big five auditing firms in the Far East where she worked with the external audit team doing compliance audits, planning audit systems, and preparing income tax documents for clients. She has also worked as the Chief Finance Officer in a Canadian construction firm with operations in both North and South America.
In 2013, Rosemary became a director and 50% shareholder of Manatee Holdings Ltd. and is presently being groomed to become CEO. She is certified by the International Register of Certificated Auditors (IRCA), has earned her Certification in Risk Management Assurance (CRMA) from the Institute of Internal Auditors (IIA), and is one of the Founding Leaders of IIA–Canada. PROFIT and Chatelaine magazines have also recognized Lourdes Gant as one of Canada's Top 100 Women Entrepreneurs in 2012 (#84)and 2014 (#5).
Rosemary's success is built on the unique perspective that intuition and higher purpose are integral components to a successful company. Her powerful insights have led her to work with business owners around the world to align their core purpose with practical, realistic, and achievable goals. With over fifteen years of advising and advocating under her belt, she knows that a successful career and a life of enjoyment are not mutually exclusive.
Rosemary brings passion back into the lives of her clients and helps them create and remember their true vision for their business. This rejuvenation begets positive sales revenues, a happier team culture, and an inspired leader.
Enlighten your business and open yourself to positive change.
Book your initial consultation now by sending an email to rosemaryk.rollins@gmail.com
For a 30 minute Complimentary Business Strategy Session, Contact Rosemary K. Rollins directly at http://www.lourdesgant.com/strategy-session